Differentiating High Potential from Performance
How do you select people for promotion?
Do your managers assess their potential based on past performance?
If so your organization could be suffering from the Peter Principle: "In a hierarchy, every employee tends to rise to his level of incompetence."
There is strong logic behind this concept. Past performance does not necessarily indicate high potential, particularly if that future is in a significantly different role. The capabilities required to be a good engineer, analyst or researcher are quite different from those required for success as a manager.
The traditional career path to CFO is a good example: the entry-level role of financial controller requires someone with an eye for detail; someone willing to check and recheck that the numbers are right. The finance manager needs people skills to monitor and control the team. And the finance executive needs a capability for strategic oversight. Each of these roles requires a significantly different skill set. That is not to say that an individual cannot develop each of these capabilities as they progress through their career, but it should be apparent that being a good financial controller certainly does not indicate that a person will make a good financial manager or executive. Yet, most financial managers were promoted to their role because they were good financial controllers.
With this approach, most people will eventually reach a role that they do not have the capability to do. A study by the Corporate Leadership Council, based on 11,000 managers and employees, concluded that while 93% of high potentials were also high performers, less than 20% of high performers had the potential for promotion. So, why the difference?
To combat the Peter Principle, organizations try to focus on promotion based on future potential, but differentiating measures of past performance and future potential is not so easy. This is well-illustrated when we plot our employees on a 9-box talent grid, which has been used by corporations since the 1970s. Part of the attraction is the model's simplicity, which arranges every employee into one of nine types based on ratings of performance and potential.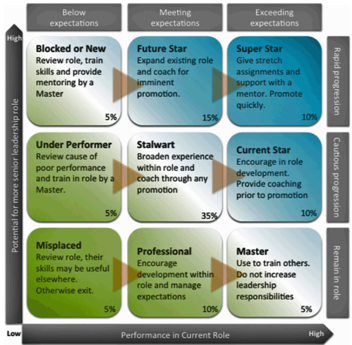 However, when we talk to many organizations, they tell us their high potentials fail to live up to expectations. And when we take a look at their 9-box grids we find that people with a high performance rating are getting a high potential rating too. That goes against the Corporate Leadership Council's study as well as our logic. What isn't working?
Assessing the performance half of the matrix is something that companies generally do well. Performance is a historical measure and so there is usually clear evidence. Some roles can make use of quantitative data.
Measuring sales performance is relatively clear cut, the value of sales closed or the number of new clients won, for example. Management and executive roles generally require a more subjective assessment. Even so, a person's line manager is usually in touch with how well they are performing and can give a valid assessment of their performance to date. If a person is performing well in an existing job, and they are promoted to a more senior role, but one that is only incrementally different, district manager to regional manager for example, then that past performance may well be a good indicator of future potential. But that doesn't mean that the manager will be able to accurately assess the person's capability to perform a more senior job that has a significantly different skill set. If the person has not been in a situation requiring negotiating skills or strategic thinking, then they may not even know their own capability in that area. So, promoting someone from technician to supervisor, or from director to VP, requires more insight than the line manager is likely to have. What are we to do?
Organizations often look for high-potential talent - those people who can quickly assimilate into a new role. These people have four common characteristics – intellect, ambition, commitment and mobility, which means they are fast learners who can adapt to new job situations and responsibilities. They are motivated, ambitious, and hungry for more responsibility. They are dedicated, and loyal to their company and where it is going. And, of course, they are flexible, able to move into new roles and adapt to the changing demands of their organization.
It is unlikely that your organization will be overflowing with people exhibiting all of these characteristics. Many employees will not be natural leaders, or strategic visionaries, but they may well be able to add value to the organization in an influential technical role. These employees are often referred to as core talent. While they have the potential to develop into jobs with greater responsibility, they are likely to do so over a longer period of time than those destined for senior leadership roles.
If we accept the fact that observing people in their current roles is often an ineffective way of assessing potential, then we need to find another way. If you have the time, giving people the opportunity to demonstrate their capability for the next role can be done through special projects, temporary work assignments, or through assessment centers that simulate job situations in a controlled environment. For example, take a care of managers who may be up for promotion in a year's time. Provide them with a two-day workshop on strategic thinking, and then give each of them a four-month strategy project to complete alongside their current job. This will give a lot of insight into their potential for taking on a more strategic role.
In our time-pressured world we often need a faster, more efficient way to assess future potential. The answer is to use a psychometric assessment. Within half day we can get a deep understanding of a person's characteristics and their capabilities. In fact, research shows that combining a quality personality questionnaire with a cognitive ability test is a better predictor of future job performance than any other method, including work sampling, interviewing or performance evaluations. Following such an assessment we are often able to make people aware of hidden strengths that even they were not fully aware. The objective, quantitative nature of the assessments also permits easy comparison of individuals. And the results provide a clear and defensible basis for making selection decisions.
Exactly how you manage your promotion process will need to closely integrate with the business objectives and culture of your organization. Thinking it through now, and making sure you are avoiding the Peter Principle by really being aware of the difference between past performance and future potential, will give you a distinct advantage and save a lot of trouble further down the line.
This webcast will reveal characteristics of potential, the latest methods for measuring potential, and explain the science behind them.
REGISTER: "Measuring People Potential: Who to hire, who to promote and how to decide"